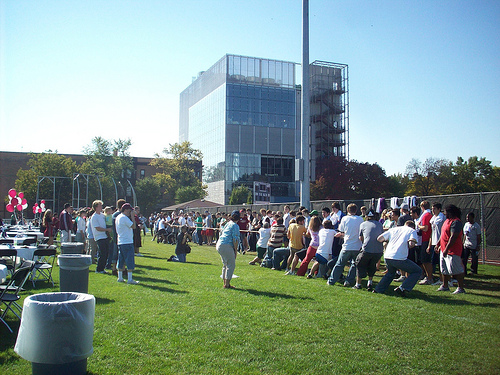 Nice post by Tim Kastelle in Innovation Leadership Network. http://timkastelle.org/blog/2011/12/ten-tensions-in-innovation-revised.  It talks of innovation issues always facing typical opposites like Radical versus Incremental, Now versus Future, Analysis versus Incremental and some more. As the picture suggests, the advice is to balance the opposites through Integrative Thinking. You are assisted further by the following definition of Integrative Thinking -
Integrative Thinking is the ability to constructively face the tensions of opposing models, and instead of choosing one at the expense of the other, generating a creative solution of the tensions in the form of a new model that contains elements of the individual models, but is superior to each.
But, how to roll up the sleeves and actually 'constructively face the tensions—–, generate a creative solution ——'? Well, they are mum at that critical juncture. No further advice on HOW TO ACTUALLY DO IT other than < insert a miracle here> type of suggestion.
This is what differentiates TRIZ from other approaches to innovation. It actually tells you HOW TO. In this instant case, it guides you how to solve the contradiction through tools called Contradiction Matrix and Separation principles. Can be done in a jiffy, simply by following steps.
Less philosophizing, more hand-holding.
Try it.